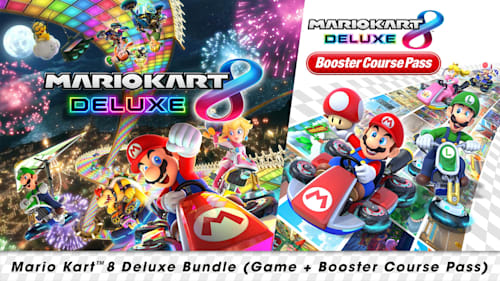 Release Date
Jan 27th, 2023
Description
With a paid Nintendo Switch Online + Expansion Pack membership, you can download and play the add-on content included in this bundle at no additional cost. Full version of game required to use DLC.

Burn rubber across Mushroom Kingdom raceways—underwater, in the sky, upside-down in zero-g, and past the finish—for the win! Rev up for local multiplayer, online tournaments*, a revamped battle mode, and more! Plus, get double the tracks with the included Mario Kart™ 8 Deluxe – Booster Course Pass DLC! Race across 48 more courses like Wii Maple Treeway, DS Waluigi Pinball, and Tour Paris Promenade. Content will release in 6 waves of 8 courses until the end of 2023.

Stay fresh in the Mario Kart 8 Deluxe game by playing as guest characters Inkling Girl and Inkling Boy! You can use their Splatoon-inspired karts on their battle mode stage, Urchin Underpass. There are also returning items, like Boo, the item-stealing ghost, and the Feather, used exclusively in battle mode. Veterans rejoice—you can hold two items at once! Prove you're the world's best racer and battler in online tournaments, or simply race and battle friends online. With many control options and handheld mode, there's always a way to play on the Nintendo Switch™ system!
On Steam™

0

0
* Disclaimer: Reviews are from the Steam (PC) version of the game. These are not indicative of performance on Switch.