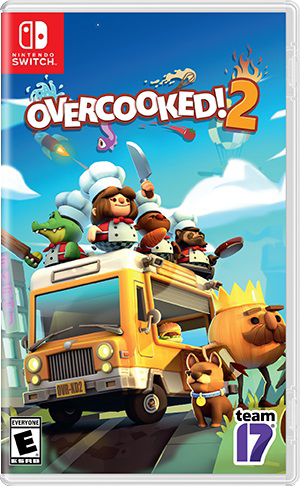 Overcooked! 2
Simulation, Strategy, Communication, Party
Overcooked returns with a brand-new helping of chaotic cooking action!
Release Date NA
08/07/2018
Release Date EU
08/06/2018
Number of Players
up to 4 players
Description
Out of the frying pan, into the fire... You've saved the world from the Ever Peckish. Now a new threat has arisen and it's time to get back in the kitchen to stave off the hunger of The Unbread! ONLINE/LOCAL MULTIPLAYER MADNESS - You'll knead to work together (or against each other) to get the highest score in chaotic local and online multiplayer. Team up with up to 3 other chefs taking a Joy-Con™ controller each or use wireless play across four Nintendo Switch™ consoles. FEAST YOUR EYES ON THIS - Journey across a brand new overworld map by land, sea and air. Get cooking in new themes ranging from sushi restaurants, magic schools, mines and even alien planets! WHET YOUR APPETITE! - Travel the land cooking up a range of new recipes that are sure to cater to any tastes, including sushi, cakes, burgers and pizzas. ROMAINE CALM! - Travel through teleporters, across moving platforms and save time by throwing ingredients across dynamic kitchens that shift and evolve. Some kitchens even whisk your chefs away to new locations.
User reviews (7)
POSTED: Feb 14, 21 @ 3:08 AM
Overcooked is as i am writing this a switch online game trial so i thought i could get it to try it out, this is my thoughts 1. Movement speed. Your speed is very fast and i think it should go down a bit as you just lose control of your character 2. Nintendo switch. As much as i love the switch, this game is not great for the nintendo switch
POSTED: Aug 6, 20 @ 10:52 AM
No review provided ¯\_(ツ)_/¯
POSTED: Aug 2, 20 @ 11:59 PM
No review provided ¯\_(ツ)_/¯
POSTED: Apr 18, 20 @ 10:07 PM
No review provided ¯\_(ツ)_/¯
POSTED: Apr 17, 20 @ 11:22 AM
It's a really fun game to play with friends. The performance sometimes is not as expected and you move either too fast or too slow, and it takes a while for you to get the hang of it. But overall is a good multiplayer game. Do not attempt to play it solo, it is definitely not intended for that use. In case you wanna play solo, play the fist game.
POSTED: Apr 16, 20 @ 12:29 PM
No review provided ¯\_(ツ)_/¯